CVap® Flip-Door Holding Cabinets
CVap® HOV7-05SP Flip-Door
CVap Flip-Door Holding Cabinets
CVap Flip-Door Holding Cabinets are the latest additions to Winston's CVap holding line. Available in full-size or countertops, they have several improvements to perfect them for KFC operations. First, factory pre-set controls are plug-and-play simple. Second, see-through doors make it easy to check inventory at a glance. Third, patent-pending magnetic hinges will never let you down and won't wear out. Fourth, flip-up doors stay in place, making refilling and packing easy. Above all, food is held hot until its ready to serve.
They are designed for easy retrofit in existing spaces. Features include C-Touch Controls, eight programmable (and lockable) channels, USB/audio ports for software updates, and HACCP data download. In addition, they feature CVap wireless programming (via NFC sensor) and an on/off convection fan. Moreover, they can also be loaded from either side. Finally, KFC models include automatic water fill.
CVap Holding Cabinets are more than just heated holding cabinets. Unlike other cabinets, they keep food at the temperature and moisture level you want for extended periods. You can cook ahead of the rush. Because crisp foods stay crisp, and moist foods stay moist.
CVap (or Controlled Vapor Technology) is a patented dual heat system that uses a combination of moist vapor heat and dry air heat to control food temperature and texture. CVap Holding Cabinets are perfect for holding hot food at the just-cooked freshness until you're ready to serve.
Watch this video for a quick, quirky look at the science behind CVap technology.
Available accessories include wire racks and external water filter. Contact your supplier for full details on accessories.
Contact your supplier for full details on options.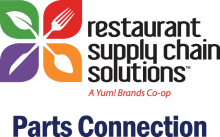 The preferred provider of equipment, materials, and services, enables members to build and run the most efficient/sustainable restaurants in the industry. Whether managing your development, replacement, parts, smallwares or facilities needs, Restaurant Supply Chain Solutions is committed to ensuring you receive outstanding service.